This article is out of date.
The information conveyed on this page may not be relevant to the current version of Keeping Culture KMS®.
When skinning the mobile interface, it is possible to specify a custom font to use in place of the default 'Arial' font face. Fonts are imported into the archive by specifying the font name and an URL to an external CSS file inside the Mobile Interface Skin administration page.
Using Google Fonts
Google Fonts provides a library of fonts that can be imported and used in the archive. Find a font that is suitable, click the 'quick-use' button and choose @import where it says 'Add this code to your website'. Copy the url between the ( and ) parentheses into the 'Font Import Url' field. Copy the font name into the 'Font Import Name' field. See the illustration below.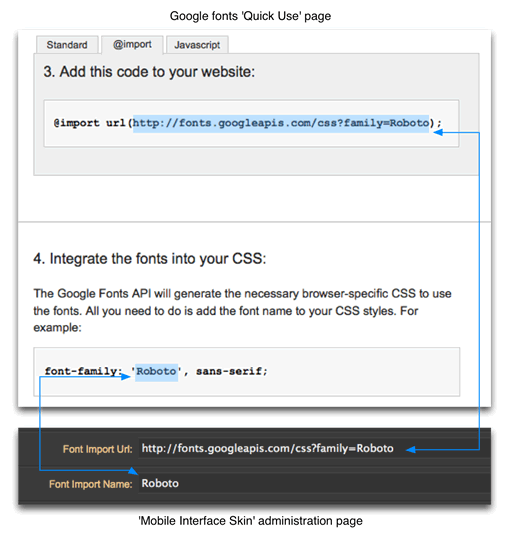 Custom CSS fonts
To use custom fonts in the archive, the font resources and CSS file must be prepared and stored on a publicly accessible server so they can be imported into the archive by an URL. Instructions on preparing these files is beyond the scope of the document but there are numerous resources on the web which provide insight into CSS files and @font-face rule. For example, W3School is an excellent resource with tutorials and examples.