This article is a supplement to Accessing your content on our S3 backup.
Transmit is a Mac file transfer tool which supports a number of protocols, including S3 and FTP. While there are other file transfer tools that support S3 for the Mac, like Cyberduck, in our opinion Transmit is the simplest and easiest to use.
Transmit can be trialled for 7 days before requiring registration. It can be downloaded from: https://panic.com/transmit/
To backup your content using Transmit:
Launch Transmit and select the S3 connection option.
Using your supplied account details:

enter the Access Key into the 'Access Key ID:' field,
enter the Secret Key in the 'Secret:' field,
enter the Path into the 'Initial Path:' field, and
click 'Connect'.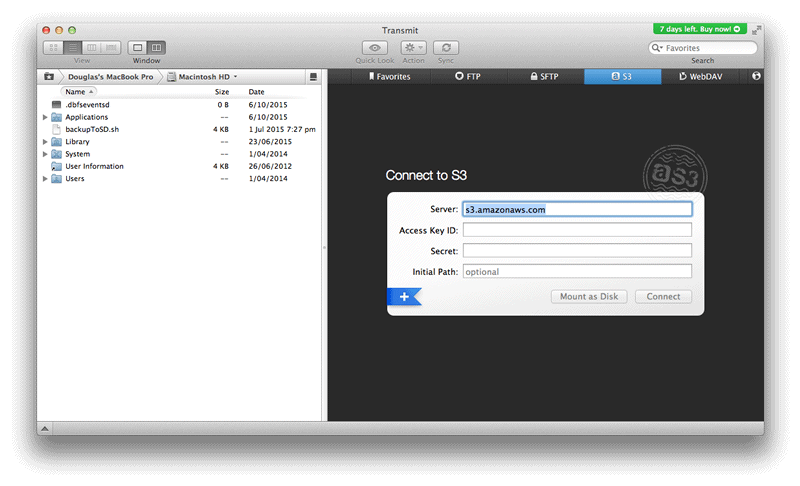 Once a connection has been established, you should see two folders – 'archive-files' and 'database' – in the 'Remote Browser' column.
On your Mac, create a new folder where the backup data will reside. You can skip this step if you have already created a folder for the backup.
In Transmit, navigate to the backup folder using the 'Local Browser' column that displays the files on your computer
Click the 'Sync' toolbar button or go to the 'Transfer' menu and select 'Synchronize'.
In the Synchronize settings panel:

Select the arrow button that points to the local file path or computer icon.
Deselect the 'Determine server time offset automatically' option.
The server is in Sydney, enter the time difference for your timezone at your location in the 'Server is … hour(s) and … minute(s) Ahead/Behind' statement.
Click 'Synchronise'.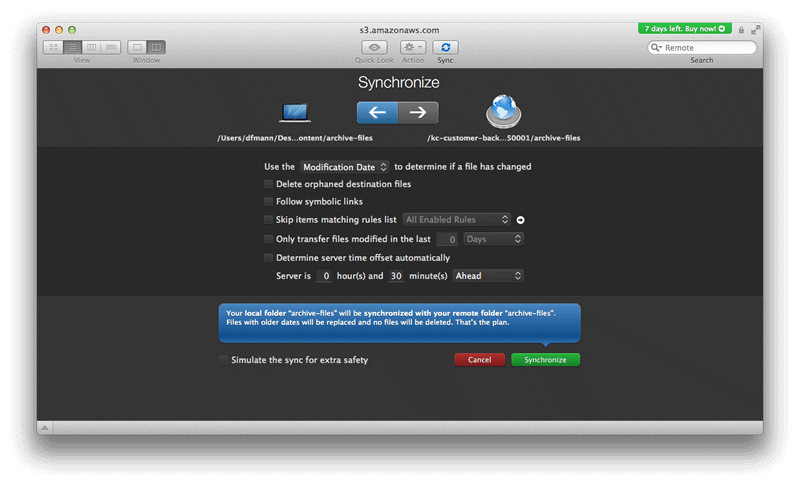 Transmit will begin comparing and downloading new and changed files. Once finished, you are presented with a transfer log. For your first backup, the transfer might take several hours to complete. Subsequent backups should be much faster depending on the frequency of your backups.
Click 'Done' to return to the main layout.