Introduction
The cultural warning can be customised in two ways:
The warning text can be edited to suit your needs.
Audio files containing a spoken warning messages can be uploaded to accompany the warning text.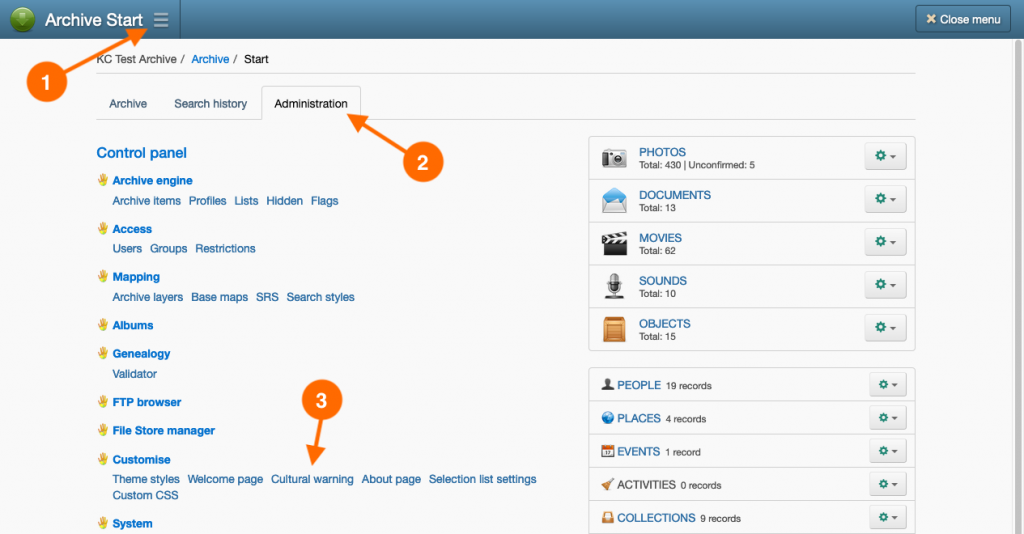 To customise the cultural warning, navigate to:
Main Menu
Administration tab
Cultural warning hyperlink
Your User account must have Administration access and Customise Cultural Warning permissions enabled to modify the archive's cultural warning.

If the hyperlinks, pages and resources for customising the archive's cultural warning are not available on the archive, try logging in with an account with higher administrative privileges or as a Super Administrator.
---
Cultural warning audio files
You may wish to provide a spoken version of your cultural warning for low literacy users. This requires you to prepare and record a spoken cultural warning; this cannot be done in the archive itself.
If your archive is used by multiple language groups, then multiple recordings in each language can accompany the written cultural warning.
The archive will compress your submitted audio files into MP3 suitable for web delivery.
Navigate to the Cultural warning page, navigate to: Main Menu → Administration tab → Cultural warning hyperlink.
In the Pre-recorded audio warning section, enter the language name of your recording in the Language field.
Select the Insert the audio file selected in the 'Insert audio 1' control below option.
Click Choose file.
In the Choose file window, do one of the following:

If the audio file has been uploaded to the archive's FTP folder, select the Archive files tab, navigate to, and select the file. Click Select.
Select the Upload files tab, choose your audio file or drag-and-drop it onto the browser window. Once the file appears in the Files to upload list, click Upload.

Click Save. A 'Listen' button will now appear with the cultural warning text. You can add subsequent recordings by repeating steps 2 to 6 in the new fields that appear below the recording you've just added.