This article is out of date.
The information conveyed on this page may not be relevant to the current version of Keeping Culture KMS®.
The first time you attempt to record an audio or movie annotation, the Flash Player will open the 'Adobe Flash Player Settings' window. You will be asked whether you wish to accept connections to your camera and microphone. You will need to accept in order to record audio and movie annotations.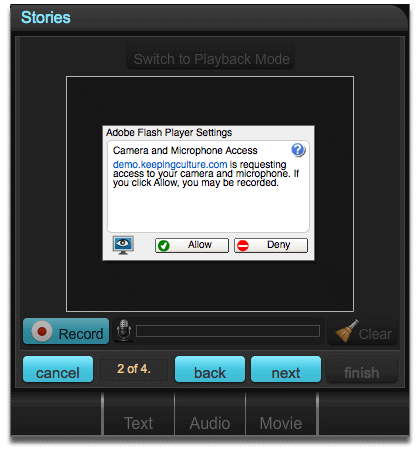 Once you have accepted the connection, you will need to reopen the Adobe Flash Player Settings window. Right-click (or hold down the 'control' key and click if you're on a Mac) inside the black rectangle inside the annotation control, then select 'Settings…' in the menu.

With the window open, you will need to:
select the Privacy tab (the 'monitor with an eye' icon) tab at the bottom of the settings window and make sure both the 'Allow' and 'Remember' options are checked,
select the Microphone tab and choose a microphone input from the menu. Use the Record Volume control to adjust the record level, and
select the Camera tab then select an input from the menu. Click 'Close' to save these settings.
Once the Privacy, Microphone and Camera settings have been configured for your browser, there should be no need to repeat the above process.