This article is out of date.
The information conveyed on this page may not be relevant to the current version of Keeping Culture KMS®.
Movie files ingested into the archive via Simple Upload screen must be transcoded into the appropriate file format and size for use with the archive.
Encoding and compressing movie files can be time consuming. It is unrealistic to expect users to wait for their files to encode during the upload process. As such, a workflow and Transcoder component has been devised to allow movies to be ingested into the archive and processed with minimal fuss and delay.
It is important to understand how the Transcoder components work, so you can track and be aware of what the system is doing with these movie files.
The transcoder workflow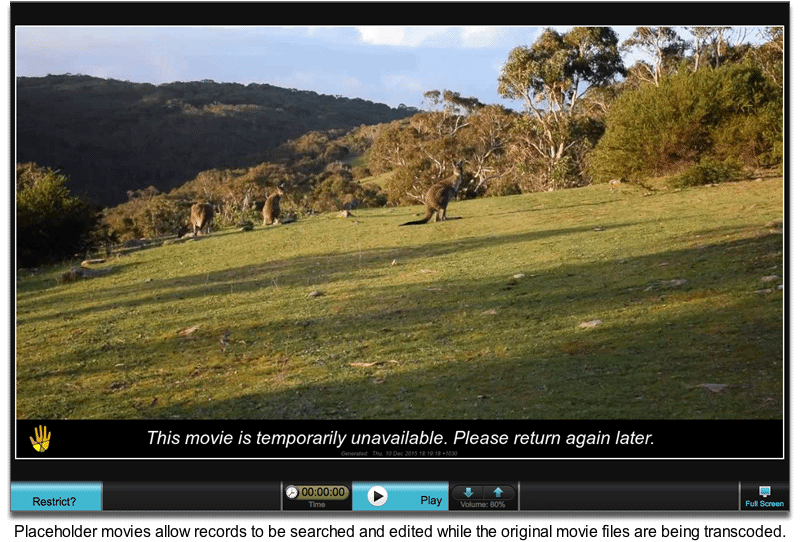 The following workflow continues on from Step 5 of 5. Confirming records in the 'How it works' section of the Simple Upload screen article.
During the 'Confirming records' step, a placeholder movie is created using the first frame of the uploaded movie. This placeholder movie is copied into position allowing the Movie record to be searched, viewed and modified in the archive as normal.
The uploaded 'original' movie file is submitted to the Transcoder component where it is queued until the Transcoder is ready to process it. This is called a 'Transcoder Job'.
The Transcoder checks regularly, every five minutes or so, to see if a movie is queued and waiting to be processed. When a movie is finished processing, the placeholder file is replaced with the encoded movie file.
If there are more files in the queue, the Transcoder will continue processing until the queue is empty.
The Transcoder component is monitored by Keeping Culture to ensure that files are being successfully processed, and if needed, corrective action can be taken without intervention on the part of the user.
Monitoring Transcoder Jobs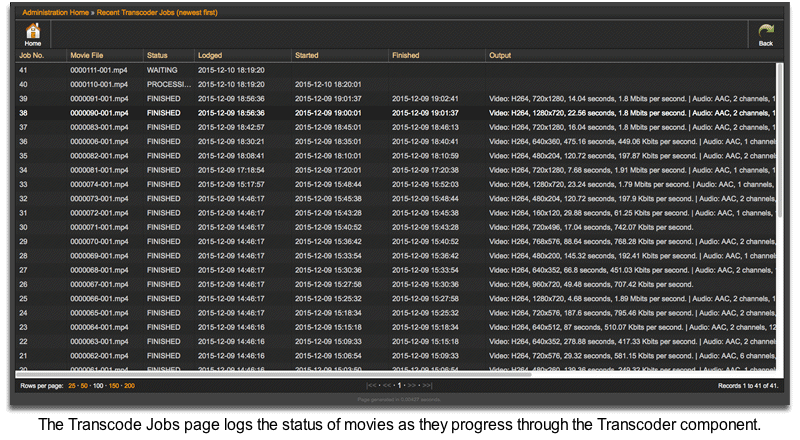 Archive administrators can monitor the Transcoder jobs that have been submitted to the Transcoder component using the Transcoder Job administration page (located at the bottom of the Administration Home page). While the Transcoder component uses one queue for all archives, the jobs listed in the Transcoder Jobs page are specific to your archive. It is important to recognise that it may take several hours before your Transcoder jobs are processed if there are other jobs ahead of yours in the queue.
Further reading